GRUB:Debian menu
Hi, After installation instead of Devuan GRUB menu I see Debian GRUB menu.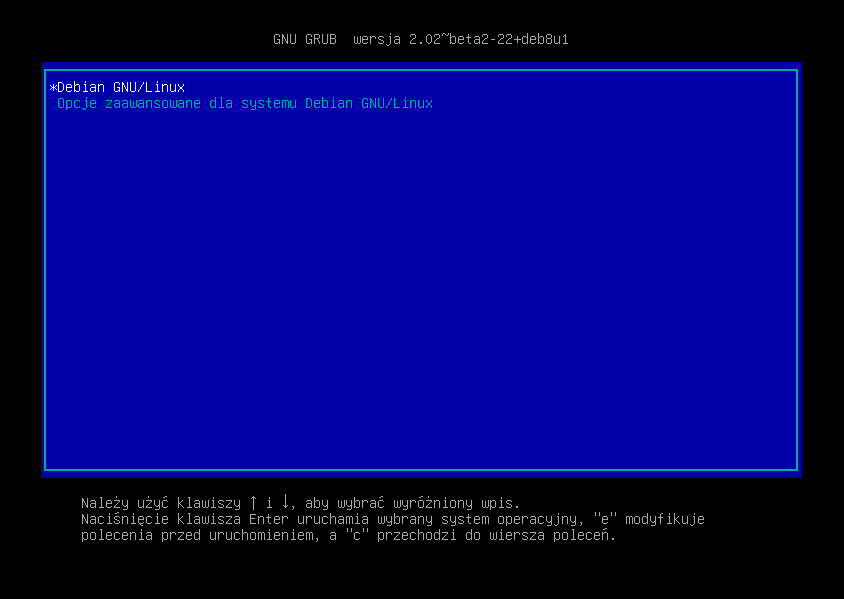 I use devuan_jessie_1.0.0-beta_amd64_NETINST.iso to install Devuan. During installation I choose pseudo graphic install option and option "Polish" everywhere it is possible (language, keyboard, mirror). I use LVM with separated partitions. I install only basic system.
Made the issue confidential

When I change hostname at instalation form 'devuan-jessie' to 'devuan' then GRUB menu entry contain Devuan instead Debian.

interesting, maybe you nailed the bug. It may be as simple as making the hostname to be only 'devuan' in the installer? @CenturionDan you definitely know more here, I'm definitely not sure of this assumption

why does grub depend on the hostname??

I'm planning on repackaging grub anyway so will probably fix it properly there....

Daniel: I tested this issue again and I can reproduce issue but two days before maybe I change hostname and tasksel checkboxes simultaneously. Today I tested it again - I installed Devuan twice. I checked "en" locale, "devuan" hostname, "auto.mirror.devuan.org", "lvm" with separate partition and on Software selection stage:

unchecked all checkbox - effect: Debian GRUB
left selected "SSH server" and "standard system utilities" - effect: Devuan GRUB.

I suppose it is because during installation base system files are installed before tasksel (from iso image) and if it is selected in tasksel after software selection (form devuan repo) - in second case some package overwrite iso package.